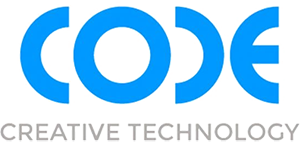 Code Worldwide is a digital transformation business. We help our clients to invent a new future for their marketing through data and technology. We work at the intersection of technology, marketing, data, media and user experience.
We offer our clients services in Transformation Consultancy, Data Engineering, Customer Experience Management technologies and Marketing Technology. We also develop and maintain our own Forrester-recognised Marketing Technology solution, adZU, which is used by 10,000 businesses worldwide.
Our key clients include Best Western, Castrol, Christie's, Domino's, Jaguar Land Rover, L'Oreal, Mercedes-Benz, Mothercare, OMD, PHD, Samsung and Telstra. Code has a global presence and employees spanning nine cities, located in the UK, Europe, North America, China, Singapore and Australia. To learn more visit www.codeworldwide.com
Code is the data and technology division of Omnicom Precision Marketing Group (OPMG) and provides technology and data innovation to agency brands RAPP, Proximity, Critical Mass, Organic, Javelin and Targetbase. We are also the leading provider of technology and data solutions to Omnicom Media Group and responsible for the development of Omnicom's integrated technology solution.
Culturally, Code is an innovative, fast moving, exciting, occasionally demanding place to work.
Description
On behalf of CODE Worldwide, Ciklum is looking for  Front End Developer for our team in Dnipro on full-time basis.
Join the cutting edge technology innovative company – CODE Worldwide. Latest technologies, interesting business domain and a friendly professional team. Spirit of innovation, open and transparent environment. Huge brands and game-changing solutions, developing applications used by respectful clients such as Jaguar Land Rover, Vauxhall, Castrol, Peugeot, Citroen, Domino and other. Freedom and opportunities for technical design and experiments. This is the experience you would be proud of – of course if you smart enough to handle it.
Your role is to help develop digital creative solutions to ensure that work is delivered to deadline as well as new business needs. By working with and adhering to strict Brand guidelines you will use your skills as a developer to build templated solutions through by using the power of automated technology.
Within our team we need someone who will be responsible for working with our Designers/artworkers to help develop & deliver high quality digital solutions, working side by side with the production team. The right person will be a keen doer, an innovative thinker, willing to turn their hand to try new things.
Responsibilities
To confidently take on a role as a front-end developer to artwork, code & deliver digital solutions across a variety of brands;
Producing templates for any medium, including press, POS, OOH, bespoke print, digital OOH, online banners and email ;
To spot repetitive patterns in designs or processes where automation could be introduced to streamline production;
Working with online platforms, ensuring they are always maintained with the most relevant content for users;
Work closely with UX to improve digital products we create in-house, transforming ideas into Pixel Perfect artwork into developer briefs;
Troubleshooting to ensure processes are adhered to, providing best practice on all digital deployment.
Requirements
 3 years delivering Production assets end to end. Design > Coding > Testing > Deployment;
Confident programming in HTML5, CSS, JS (Vanilla), JS Libraries, JS Design Patterns (module, constructor, state etc);
Experience using Node.js & Gulp tasks in your builds to automate production;
Fluent in Adobe CS, with strong skills in Photoshop, Illustrator and Indesign. (After effects is a bonus);
Confident using Sketch App & Abstract for collaborative digital art working & prototyping;
Experience using version control (GIT) to develop, collaborate & share code across teams;
Confident testing & bug fixing digital projects across online banners, rich media & email (litmus);
Can pick up a project in any state, to continue and deliver;
Can quickly understand & adapt to 3rd party CMS's;
Broad exposure to a variety of brands is a plus. (Luxury Fashion brands are a bonus);
Good verbal and written communication skills;
Excellent organisational skills;
Meticulous attention to detail and problem-solving skills;
Collaborative skills to work closely with PMs and Delivery Director as well as the client;
Ability to work under pressure and to strict deadlines to meet our client's needs;
The ability to take, interrogate and fully understand a brief.
What's in it for you
Get experience of working in creative and dynamic environment;
Great opportunity for professional growth and implementing your ideas;
Remote work policy (conditions may apply):
1 day per week: work from home option is available;
Fruits, drinks and snacks on weekly basis;
Team parties/lunches; Summer Party, Christmas Party, regular Company-wide drinks.
Client video presentation