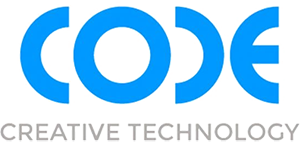 Code Worldwide is a digital transformation business. We help our clients to invent a new future for their marketing through data and technology. We work at the intersection of technology, marketing, data, media and user experience.
We offer our clients services in Transformation Consultancy, Data Engineering, Customer Experience Management technologies and Marketing Technology. We also develop and maintain our own Forrester-recognised Marketing Technology solution, adZU, which is used by 10,000 businesses worldwide.
Our key clients include Best Western, Castrol, Christie's, Domino's, Jaguar Land Rover, L'Oreal, Mercedes-Benz, Mothercare, OMD, PHD, Samsung and Telstra. Code has a global presence and employees spanning nine cities, located in the UK, Europe, North America, China, Singapore and Australia. To learn more visit www.codeworldwide.com
Code is the data and technology division of Omnicom Precision Marketing Group (OPMG) and provides technology and data innovation to agency brands RAPP, Proximity, Critical Mass, Organic, Javelin and Targetbase. We are also the leading provider of technology and data solutions to Omnicom Media Group and responsible for the development of Omnicom's integrated technology solution.
Culturally, Code is an innovative, fast moving, exciting, occasionally demanding place to work.
Description
On behalf of Code Worldwide, Ciklum is looking for a Head of QA for our team in Kyiv on full-time basis.
This is an exciting opportunity to joining a growing organization who require a talented person to develop and support the QA function.
You will be required to share and apply best practices in quality assurance facilitating the delivery of value to our clients. It will be important to collaborate with cross functional and/or project teams to ensure that QA is built in to the delivery. You will work closely with the teams to grow our QA automation practice and ensure that this is built into our CI/CD process.
Responsibilities
You will be responsible for training and coaching the QA function while suggesting improvements and implementations.
Implement test standards to ensure consistency of deliverables and reporting for test
Capture metrics to isolate pain points in our processes so that they can be targeted and addressed as part of our continuous improvement process.
Drive increased QA productivity and coverage though Automation
Align the test strategies and test deliverables across teams to ensure due diligence and consistency
Ensuring that appropriate test tools are in place and used effectively
Review test risks and issues with the teams to ensure that PMS target resources appropriately
Ensure that platform end to end testing is understood, and planned with ownership and participation from all teams
Embed test and quality assurance within Development and Cloud Services processes.
Facilitate cooperation between QA, Product, UX and the Client Services team to better understand real client usage scenarios
Support Client UAT and engagement coordinating with the Client Services team to share guidelines and responsibilities and best practice approach
Line management of the test function including but not limited to; assisting with and performing appraisals, coaching, succession planning, and ensuring that the QA have the appropriate skillset required to perform their role,
Manage and create business case for team budgetary requirements for example new test tools
Engage in hands-on testing of the product suite
Act as a senior member of the team, partnered with Product Owners, Client leads, UX, Delivery and development. Advocate for 'loveable' in Code's deliverables
Requirements
Proven working experience as part of an agile operation or development team
2 Years Commercial Experience as a Test Manager or Equivalent Senior Leadership Role for Testing
Experience of managing the team (up to 20 team-members)
5 years+ experience as a Tester/Test Analyst
Working knowledge of test automation tools
Previous experience of automation testing implementation
Atlassian Product suite (Confluence, JIRA, Crucible);
Team player
Strong interpersonal skills
Ability to multi-task, prioritise and execute tasks in a fast-paced environment
Excellent communication and documentation writing skills
Excellent problem-solving acumen
Must be self-motivated and highly organized
Other Requirements:                                
ISTQB or ISEB certified
Travel to Team locations (Ukraine/UK/Spain)
Lastly, but Importantly…
What we need from you: Jump in. Find problems. Fix them. Build relationships. Imagine new solutions. Invent them. Do whatever it takes to go above and beyond. And stand up for individuality
What do you need from us? As an inclusive and flexible employer we understand that everyone has unique requirements and needs. So please let us know what we can do to help, should you require adjustments to the process or have specific needs within the role
What's in it for you
Getting experience in the most complex product development environment
Building game changing solutions and seeing the results of your work on a daily basis
Transparent career path: continuous professional growth from Intern to Senior Dev/QA/PM with the help of Skill Matrix
Knowledge sharing: Dev Guilds, QA Guilds
Education:
Tool: https://www.pluralsight.com
Education during working hours: 2 hours per week for SMART goals.
Remote work policy (conditions may apply):
1 day per week: work from home option is available.
1 month per year: work from any Code location is available (London, Sydney, NY, Malaga)
Fun:
Fruits once per week.
Team buildings: sub team-buildings due to a successful release, Spring party, Code Anniversary, Winter party
Innovations:
AWS Sandbox to play with any Cloud technologies
Client video presentation