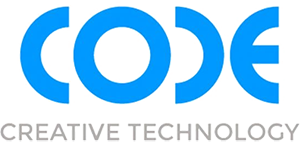 Code Worldwide is a digital transformation business. We help our clients to invent a new future for their marketing through data and technology. We work at the intersection of technology, marketing, data, media and user experience.
We offer our clients services in Transformation Consultancy, Data Engineering, Customer Experience Management technologies and Marketing Technology. We also develop and maintain our own Forrester-recognised Marketing Technology solution, adZU, which is used by 10,000 businesses worldwide.
Our key clients include Best Western, Castrol, Christie's, Domino's, Jaguar Land Rover, L'Oreal, Mercedes-Benz, Mothercare, OMD, PHD, Samsung and Telstra. Code has a global presence and employees spanning nine cities, located in the UK, Europe, North America, China, Singapore and Australia. To learn more visit www.codeworldwide.com
Code is the data and technology division of Omnicom Precision Marketing Group (OPMG) and provides technology and data innovation to agency brands RAPP, Proximity, Critical Mass, Organic, Javelin and Targetbase. We are also the leading provider of technology and data solutions to Omnicom Media Group and responsible for the development of Omnicom's integrated technology solution.
Culturally, Code is an innovative, fast moving, exciting, occasionally demanding place to work.
Description
On behalf of CODE Worldwide, Ciklum is looking for Lead Data Scientist to join Kiev team on full-time basis.
This is an excellent opportunity for an analytical professional to progress their career and make a significant impact working within the insight team.
You will be responsible for leading the analysis on a key client which will involve helping them to shape and deliver their Analytical Roadmap and working with Data Strategists to deliver Insight and grow the client.
You'll need to pull out actionable insights from data and be equally at home being 'hands on' in the delivery of client work. Reporting to the Head of Insight, the successful candidate will help deliver advanced analytical projects which will help drive insight and strategy for a key client.
An excellent understanding of data and strong SAS experience is essential.
Responsibilities
Understanding clients' objectives and KPIs
Liaise with the client, advising and shaping their Analytics Roadmap
Liaising with internal teams, gathering and delivering analysis requirements and firming the analysis brief
Hands-on using SAS/Python/R to query data and produced the statistical analysis
Presenting data in tabular, chart and graph form using Excel\PowerPoint or reporting tools such as Tableau
Interpreting data and explaining the results of analysis to a non-technical audience
Writing documents explaining the analysis undertaken to our clients
Liaising with the Data Strategists to help turn the analysis into actionable Insights to aid marketing campaigns
Desirable
Previous experience marketing analytics software e.g. Alteryx
Experience of dashboard software e.g. Tableau/Power BI
Knowledge of web analytics online tools such as Google Analytics or Adobe Analytics
A degree or equivalent in a numerate discipline i.e. Mathematics or Statistics
We want you to be a self-starter, able to work on own initiative, yet contribute and work within a team
You should be able to manage and deliver projects to tight deadlines
You should be able to communicate clearly and prepare comprehensive reports
We want someone who's confident, a personable character and capable of building good working relationships with clients as well as other team members
You should be imaginative and have a practical approach to problem solving
You need to be conscientious and reliable with a strong work ethic and have strong personal integrity
What's in it for you
Getting experience in the most complex product development environment
Building game changing solutions and seeing the results of your work on a daily basis
Transparent career path: continuous professional growth from Intern to Senior Dev/QA/PM with the help of Skill Matrix
Knowledge sharing: Dev Guilds, QA Guilds
Education:

Education during working hours: 2 hours per week for SMART goals

Remote work policy (conditions may apply):

1 day per week: work from home option is available
1 month per year: work from any Code location is available (London, Sydney, NY, Malaga)

Fun:

Fruits once per week
Team buildings: sub team-buildings due to a successful release, Spring party, Code Anniversary, Winter party

Innovations:

AWS Sandbox to play with any Cloud technologies
Client video presentation