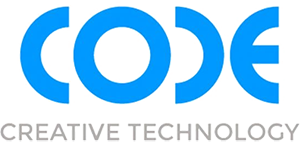 Code Worldwide is a digital transformation business. We help our clients to invent a new future for their marketing through data and technology. We work at the intersection of technology, marketing, data, media and user experience.
We offer our clients services in Transformation Consultancy, Data Engineering, Customer Experience Management technologies and Marketing Technology. We also develop and maintain our own Forrester-recognised Marketing Technology solution, adZU, which is used by 10,000 businesses worldwide.
Our key clients include Best Western, Castrol, Christie's, Domino's, Jaguar Land Rover, L'Oreal, Mercedes-Benz, Mothercare, OMD, PHD, Samsung and Telstra. Code has a global presence and employees spanning nine cities, located in the UK, Europe, North America, China, Singapore and Australia. To learn more visit www.codeworldwide.com
Code is the data and technology division of Omnicom Precision Marketing Group (OPMG) and provides technology and data innovation to agency brands RAPP, Proximity, Critical Mass, Organic, Javelin and Targetbase. We are also the leading provider of technology and data solutions to Omnicom Media Group and responsible for the development of Omnicom's integrated technology solution.
Culturally, Code is an innovative, fast moving, exciting, occasionally demanding place to work.
Description
On behalf of CODE, Ciklum is looking for Middle Full Stack Developer to join the Dnipro team on a full-time basis.
Speaking up on racism and diversity
At Code we take a strong stand against racism or any type of discrimination. Our mission has been, and always will be to create technology that empowers people to change the world for the better.
We are made stronger by the diversity of our people and their uniqueness at Code. This means encouraging development and rewarding the individual for being themselves, whatever their personal circumstances. We are committed to creating an equal work environment that drives progress in inclusion and diversity. We expect you to hold the same position and that you will also aim to bring about positive change and racial justice.
Lastly, but importantly…
What we need from you: jump in, find problems. Fix them and build relationships. Imagine new solutions, invent them and manage them. Do whatever it takes to go above and beyond. And stand up for individuality.
Responsibilities
Development and unit testing of web application including front-end (SPA) and back-end (microservices), maintenance & support of the same
Provide assistance to Project Managers and Technical Leads in the planning of projects (eg provision of estimates, risk analysis, requirements analysis, technical options)
Software Design
Involvement in full life cycle of projects (including requirement analysis and system design, development and support if required)
Support and work collaboratively with teams across areas of design, development, quality assurance and operations
Commit your knowledge and experience into team success
Be prepared to travel (when needed) to work with other Code offices
Attend meetings if required to discuss and demonstrate solutions at both technical and business level
Requirements
3+ years in application development
Understanding the sense of OOP/OOD/DDD
Using of OOP and patterns
NET MVC experience
Database experience (MS SQL, MongoDB, ElasticSearch or similar) and ORM technologies (LINQ, EF or similar)
MSBuild
Performance optimization
Security implementation
API development including RPC-like / REST
Distributed message based application implementation
TDD practices
CI/CD practices
HTML5/CSS3/JavaScript/TypeScript and AJAX experience
SPA (Single Page Application) implementation (Angular, React, Vue.js or similar)
Desirable
CQRS and Event Sourcing pattern Experience
AWS-based development
Serverless
Docker
.Net Core
MongoDB
ElasticSearch
Knockout.js
Vue.js
Design and usability skills are a plus
Multi-tenant application development experience is a huge plus
Personal skills
Clever personality
Strong spirit skills set: conflict resistant, self -motivated, result-oriented, responsible, honest, "open", courageous
Client video presentation