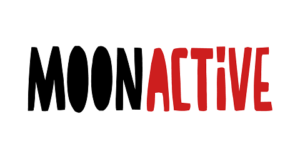 MoonActive is a Tel Aviv based game development company. We produced different social games for iOS, Android and Facebook. Have more than 1 million users. Our goal is to develop top quality casual games and connect people, friends and players from all over the world. We have very good positions on the market, high quality, they care about user experience, do a lot of analysis, company has good revenue grows. With More than 1M Daily Active Users and over 60 Million downloads, our main game is a Top 10 most grossing game in over 60 countries, kept its place as a top grossing game in every country it was officially launched.
We follow our belief that reaching success comes from setting high standards and striving to be the best at all we do:
Stunning art

Fun game play

Marketing expertise

Data science

Advanced technology

No compromises on quality
Description
On behalf of MoonActive, Ciklum is looking for an experienced Middle/Senior Front-End Engineer (React) to join Kyiv team on a full-time basis.
Moon Active, a mobile games startup with millions of daily players worldwide is looking for a Middle/Senior Front-End developer to join our rapidly growing company and help us develop our Business support applications, allowing teams from Marketing, Monetization, Product, CRM, and LiveOps to leverage insights from massive amounts of data to deliver an optimized and personalized experience to our players.
You will work in an energetic startup environment following Agile concepts and methodologies. Delivering cutting-edge features in diverse areas ranging from Marketing automation, In-game campaign management, Experience segmentation, Game optimization, Social campaign management, A/B testing tools and more.
Responsibilities
Develop UI tools used in the core of the company's operation.
Maintain fast-paced deliveries with no compromises on quality and user experience.
Work in Kiev based cross-functional team.
Occasional visits to the Tel-Aviv office.
Requirements
2+ years experience of Front-End stack web development and React in particular.
Excellent knowledge of HTML and CSS.
Knowledgeable in modern frameworks such as Redux, React or Angular.js
Experience in working with cloud-based architectures and AWS specifically.
Ability to carry requirements from early phase to full implementation.
Proven track of products that were released to production and used by users.
Fluent in English, both written and verbal.
What's in it for you
A challenging function, with a lot of responsibility in a unique dynamic environment
Work with the latest technologies
Work with skilled and professional teammates. Collaborating together to create awesome games served to tens of millions of players
State of the art, cool, centrally located offices with a warm atmosphere which creates really good working conditions
Competitive salary