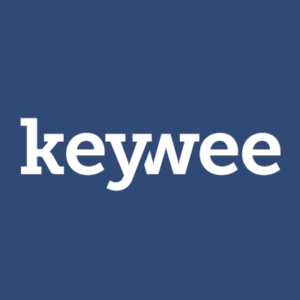 Keywee helps the world's best storytellers, like The New York Times, The BBC, National Geographic, Forbes, and Red Bull, to use the latest breakthroughs in machine learning and data science to help their content realize its potential. Our platform offers a new approach to content creation, distribution, and performance measurement by infusing content with data. Keywee is backed by leading investors such as Google's Eric Schmidt and The New York Times, and has been a fast-growing, profitable start-up since its inception.
Keywee was founded in 2013 and quickly grew to serve hundreds of the world's top content creators. We are fortunate to work with iconic publishing brands and digital natives like Conde Nast, AOL, Slate, The New Yorker, The Guardian, and New York Magazine. We are headquartered in Manhattan, Tel Aviv, and London.
Keywee fortunate to enjoy rapid growth and adoption by hundreds of customers, but really, we're just getting started. As a Senior Software Engineers you will be joining a small team that moves fast, and you'll own a substantial portion of our work within your respective domain. You'll have the freedom to plan, experiment, and execute various projects. You will play a significant role in shaping the company's future, and have the opportunity to learn and grow with us.
Description
On behalf of Anyword, Ciklum is looking for a Performance Marketing Manager to join the Kyiv team on a full-time basis.
As a Performance Marketing Manager at Anyword, you'll be responsible for maintaining paid campaigns on Facebook, Google, and display channels. You'll also be responsible for exploring new acquisition channels on a regular basis. Apart from running the campaigns, you'll be in charge of creating high-converting landing pages, and continuously running messaging tests on all of the channels.
About Client:
Anyword (formerly Keywee) is a Natural Language Generation Platform that helps marketers create and tailor their messages to their ideal audience. Our platform uses a model trained on millions of marketing messages, coupled with historical data to help create expert-level messages across channels and formats for maximum results. Anyword powers the world's top publishers and brands, including The New York Times, NBA PetCareRx, Red Bull, Ted Baker, and many more.
As Anyword expands its SaaS offering, acquiring new users through paid channels at scale is quickly becoming a big priority.
Responsibilities
Manage paid campaigns, aiming for maximum ROI at scale
Create and maintain reporting on those campaigns
Generate and consistently A/B test campaign creatives including still images and video
Create and optimize landing pages to improve conversion rates
Understand and refine the user personas you'll be targeting
Requirements
Outstanding oral and written communication skills
Advanced proficiency with Google ads. Other channels are a bonus but not a must
Proficiency with at least one design tool – Photoshop, Canva, Figma, etc.
1 year of experience in PPC at a B2B SaaS company with a self-service SMB product offering – big advantage
Native-level English – you don't need an American accent, but you shouldn't need any proofreading for grammar and spelling either
The ability to manage big projects end-to-end, and work with other teams in the company
Self-starter, able to find opportunities and take initiative
Experience in ad technology or marketing technology – a major plus.
Personal skills
Good command of English, both written and verbal
A real passion for solving problems and delivering value
Analytical mind, with proactive approach
Working well autonomously and as part of a team
What's in it for you
Unique working environment where you communicate and work directly with client
Variety of knowledge sharing, training and self-development opportunities
Workstation configuration upon employee request
Competitive salary
State of the art, cool, centrally located offices with warm atmosphere which creates really good working conditions
Friendly and trusted environment where all ideas are heard