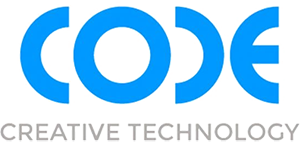 Code Worldwide is a digital transformation business. We help our clients to invent a new future for their marketing through data and technology. We work at the intersection of technology, marketing, data, media and user experience.
We offer our clients services in Transformation Consultancy, Data Engineering, Customer Experience Management technologies and Marketing Technology. We also develop and maintain our own Forrester-recognised Marketing Technology solution, adZU, which is used by 10,000 businesses worldwide.
Our key clients include Best Western, Castrol, Christie's, Domino's, Jaguar Land Rover, L'Oreal, Mercedes-Benz, Mothercare, OMD, PHD, Samsung and Telstra. Code has a global presence and employees spanning nine cities, located in the UK, Europe, North America, China, Singapore and Australia. To learn more visit www.codeworldwide.com
Code is the data and technology division of Omnicom Precision Marketing Group (OPMG) and provides technology and data innovation to agency brands RAPP, Proximity, Critical Mass, Organic, Javelin and Targetbase. We are also the leading provider of technology and data solutions to Omnicom Media Group and responsible for the development of Omnicom's integrated technology solution.
Culturally, Code is an innovative, fast moving, exciting, occasionally demanding place to work.
Description
On behalf of Code Worldwide, Ciklum is looking for a Product Owner for our team in Kyiv on full-time basis.
The Product Owner will work within the product team to ensure the ongoing product delivery of adZU LME.
Working with key stakeholders including management, support, and clients, you will generate product requirements; create specifications, produce wireframes, test features, and develop feature roadmaps for product introduction into the adZU Local Marketing Edition (LME) platform.
The Product Owner is product focused and will be called upon to engage with clients but always within a framework of representing the adZU LME platform.
Responsibilities
Learn and Support adZU
Become expert in our adZU LME marketing platform
Support our client facing team
Triage, prioritise and manage the issues backlog
Work with the client facing team to optimize product configuration
Analyse adZU LME Product Opportunities
Analyze market trends and competitor activity to provide ideas on product and service, and cost reductions
Identify strengths / weaknesses, making and implementing recommendations to improve
Support Senior Product Owner in review of proposed ideas, update status & queue ideas
Work with UX & development teams to develop and prototype new ideas
Maintain a backlog of future innovations within Aha!
Drive innovation and product improvements
Defining adZU LME
Write clear and detailed design & requirements documents, features and bug fixes, complete with acceptance criteria and using Code templates
Ensure all new features are linked to goals and objectives that are a priority for adZU LME
Available to answer questions from developers and clarify requirements
Work within the product management team to contribute to the product vision, positioning, and direction
Collaborate with Product Owners in maintaining plan integration and ensuring the overall achievement of product objectives
Support measuring and monitoring product performance with directly measurable KPIs shown in basic dashboards
Delivering adZU LME
Contribute to the development and delivery to market of product changes
Working with off-shore Scrum Masters to ensure teams deliver new releases to the product on time and on budget and in accordance with the requirements
Attends scrum meetings including stand-ups, retrospectives, and demos with off-shore teams
Together with Senior Product Owner lead backlog grooming to decompose/provide ROM estimate on stories with engineering teams
Test updates & new apps with users to refine the requirements and user experience. Tests are qualified with clearly defined KPIs and compared to the control to confirm the value of these ideas
Ensure that documentation of apps and features on Confluence is up-to-date (including adZU LME features, how to pages, troubleshooting pages)
Support rollout new features to LME platform, company and tenants (e.g. communication plans, training, marketing materials)
Requirements
University degree (Computer Science/Economic/Marketing & Management)
Experience in information gathering and the creation of product design and requirements, including User Stories
3+ years of experience with software requirements management using Agile methodologies
Product and business-oriented mindset
Product Owner experience in software development sphere 2+ years
Experience in writing product, end-user and business documentation
Strong technical aptitude and willing to learn new technologies and processes
Experience in creation of product design and requirements
Excellent written and oral communication skills
Extremely proficient in Microsoft Word, PowerPoint, and Excel
Ideal candidates need to be solution oriented, process driven, fast learners, strong communicators and passionate about technology.
Ability to effectively prioritize tasks and manage multiple projects at once
Ability to work in a fast paced, start-up work environment
Experience using JIRA, Confluence, and aha!
Understanding of Agile Values & Scrum Methodology
Stakeholder analysis (incl. RACI technique, stakeholder mapping)
Elicitation techniques (incl. interviews, focus groups, workshops, survey/questionnaire, brainstorming)
Functional decomposition
Use Cases
User Stories (incl. INVEST)
User Personas
Diagramming (incl. UML)
Wireframing
Prioritization techniques (incl. MVP, WSJF, MoSCoW)
User Story Mapping
Ability to work under low supervision and to collect and compile needed information from multiple sources independently
Fluent English
Personal skills
Communication – Be available to the on-shore, development teams, our clients and suppliers to support the flow of information between all parties. Ensure all parties understand deliverables before agreeing work or deadlines.
Team player – Fosters strong working relationships with their team, management, off-shore and on-shore teams, learning from them and taking a collaborative approach.
Time Management – Keep focus, mange time and/or expectations to hit deadlines, know when to say no / not yet or ask for support from team members.
Proactive – Takes a proactive approach to role and professional development.
Self Starter – the ability to work autonomously with minimal management and deliver to a high standard.
What's in it for you
Get experience in a complex product development environment
Education:

Knowledge sharing sessions
Tool: pluralsight.com
Education during working hours: 2 hours per week for SMART goals

Fun:

Fruits, drinks and snacks on weekly basis
Team parties/lunches; Summer Party, Christmas Party, regular companywide drinks
Client video presentation