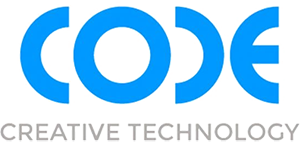 Code is a digital transformation business. We help our clients to invent a new future for their marketing through data and technology. We work at the intersection of technology, marketing, data, media and user experience. We offer our clients services in Transformation Consultancy, Data Engineering, Customer Experience Management technologies and Marketing Technology.
We also develop and maintain our own Forrester-recognised Marketing Technology solution, adZU, which is used by 10,000 businesses worldwide.
Our key clients include Best Western, Castrol, Christie's, Domino's, Jaguar Land Rover, L'Oreal, Mercedes-Benz, Mothercare, OMD, PHD, Samsung and Telstra. Code has a global presence and employees spanning nine cities, located in the UK, Europe, North America, China, Singapore and Australia. To learn more visit www.codeworldwide.com Code is the data and technology division of Omnicom Precision Marketing Group (OPMG) and provides technology and data innovation to agency brands RAPP, Proximity, Critical Mass, Organic, Javelin and Targetbase.
We are also the leading provider of technology and data solutions to Omnicom Media Group and responsible for the development of Omnicom's integrated technology solution. Culturally, Code is an innovative, fast moving, exciting, occasionally demanding place to work.
Description
On behalf of CODE WorldWide, Ciklum is looking for Senior Full Stack Developer (JS/.Net) to join Dnipro team on full-time basis.
Would you like to be a part of Creative Technology Business? Do you have a passion for delivering innovation and doing things that have never been done before?
Join Code Worldwide – Omnicom's Creative Technology business, who help companies make more money through the use of smart technology.
Responsibilities
Production of software application;
Review of requirements;
Software design;
Coding and unit tests;
Commit your knowledge and experience into team success.
Requirements
HTML5/CSS3/JavaScript and AJAX experience;
TypeScript;
Advanced experience of working with different Front-libraries, frameworks and tools (Angular, KnockoutJS, WebPack, require.js, Redux etc.);
Understanding of CI/CD practices;
NET+MVC experience;
MS SQL database experience and ORM technologies such as LINQ;
Intermediate English is a minimum, Upper-intermediate or above is a plus.
Personal skills
Clever, strong spirit skills set: conflict resistant, self-motivated, result-oriented, responsible,  honest, "open", courageous.
What's in it for you
Work and grow in one of the best teams in Dnipro;
Get experience in the most complex product development environment;
Ability to take technical decision since CODE has independent production office in Ukraine with no technical control from London.
Client video presentation