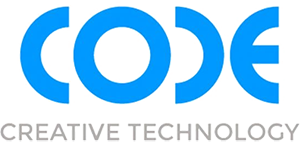 Code is a digital transformation business. We help our clients to invent a new future for their marketing through data and technology. We work at the intersection of technology, marketing, data, media and user experience. We offer our clients services in Transformation Consultancy, Data Engineering, Customer Experience Management technologies and Marketing Technology.
We also develop and maintain our own Forrester-recognised Marketing Technology solution, adZU, which is used by 10,000 businesses worldwide.
Our key clients include Best Western, Castrol, Christie's, Domino's, Jaguar Land Rover, L'Oreal, Mercedes-Benz, Mothercare, OMD, PHD, Samsung and Telstra. Code has a global presence and employees spanning nine cities, located in the UK, Europe, North America, China, Singapore and Australia. To learn more visit www.codeworldwide.com Code is the data and technology division of Omnicom Precision Marketing Group (OPMG) and provides technology and data innovation to agency brands RAPP, Proximity, Critical Mass, Organic, Javelin and Targetbase.
We are also the leading provider of technology and data solutions to Omnicom Media Group and responsible for the development of Omnicom's integrated technology solution. Culturally, Code is an innovative, fast moving, exciting, occasionally demanding place to work.
Description
On behalf of CODE Worldwide, Ciklum is looking for Senior Technical Lead to join the team in Dnipro on full-time basis.
About role:
Programming activities 50%
Team related activities 50%
Level of operation: cross-team (10+ teams)
Primary people to work with: team's Tech Leads, Solution Architects, Enterprise Architect
Responsibilities
Technical

To facilitate problem solving and collaboration;
To encourage creativity, risk-taking and constant improvement;
To familiarize the team with modern design patterns, the development processes, design standards, techniques and tools;
To be responsible for improving quality of code from whole team through code reviews, training, establishing & enforcing standards, technical debt assessment and prevention;
To escalate to Project Managers (PM), Enterprise Architect (EA) issues which cannot be resolved by the teams;
To collaboratively engage Tech Leads into product architecture refining in close cooperation with Solution Architects;
To ensure solutions to be delivered by team meets agreed architecture design;
To ensure that all key design decisions, practices are documented and shared with other teams;
To assess, manage and continuously reduce technical debt along with efforts to prevent accumulating new one;
To ensure best practices and process for product delivery are in place (CI, CD).

Product

To have vision of primary business purpose of a product;
To have vision of the project's technical architecture objectives and principles supporting product business purposes;
Ensure Tech Leads do understand that CODE is not producing just source code – CODE produces the tools to help people to make their business today and years ahead.

Team

Regular work with team's Tech Leads to supervise and encouraging to follow the policies and best practices to improve quality and standards of code writing;
Regular review of metrics with Tech Leads;
To lead by setting a good example (role model) through temporary work with specific teams;
To mentor and develop team's Tech Leads by providing consultancy, reviewing quality of solutions, organizing workshops to raise quality of solutions and address discovered negative trends;
To raise technical culture .
Requirements
3-4 years in Team Lead / Tech Lead / Architect role operating with 4+ teams;
Expert knowledge of:

NET platform: ASP.NET+MVC, WCF etc;
Front-end technologies: JavaScript/TypeScript, CSS/LESS/SASS;
API technologies: WebAPI;
DB-technologies including NoSQL;
Industry recognized architectural patterns and styles including microservice, message based systems;
Design patterns, design approaches and concepts including CQRS, ES;
Object Oriented Analysis and Domain Driven Design practices;
Design, coding, unit/integration/system testing, configuration management best practices;
Development tools, libraries, frameworks;
MS SQL database and ORM technologies such as NHibernate, LINQ, EF;
NoSQL database such as MongoDB, ElasticSearch, Redis;
Cloud technologies such as AWS, Azure, Google.

Performance optimization experience;
Knowledge of software quality metrics (Loose coupling, cyclomatic complexity, code coverage, etc);
Understanding pros and cons of various design, coding, testing approaches ;
Understanding of technology trends (BigData, AI/ML, Cloud Solutions);
Bachelor degree in Computer Science, Applied mathematics or equivalent education;
Advanced/fluent English;
Experience in providing technical PoC to business during sales and visioning (RFP, RFI);
Knowledgeable in Agile, Lean principles and values.
Skills:
.Net Core;
Docker;
AWS  ;
MongoDB, ElasticSearch.
Personal skills
Abstract reasoning;
Analytical reasoning;
Detail orientation ;
Result orientation;
Highly responsible;
Good mood despite the circumstances.
What's in it for you
Getting experience in the most complex product development environment;
Building game changing solutions and seeing the results of your work on a daily basis;
Transparent career path: continuous professional growth from Intern to Senior Dev/QA/PM with the help of Skill Matrix;
Knowledge sharing: Dev Guilds, QA Guilds;
Education:
Remote work policy (conditions may apply):

1 day per week: work from home option is available;
1 month per year: work from any Code location is available (London, Sydney, NY, Malaga).

Fun:

Fruits once per week;
Team buildings: sub team-buildings due to a successful release, Spring party, Code Anniversary, Winter party.

Innovations:

AWS Sandbox to play with any Cloud technologies;
Hackathons.
Client video presentation